Gestational Pemphigoid
Case Study
Gestational Pemphigoid or Pemphigoid Gestationis (PG) is pregnancy-associated autoimmune skin disease that is characterized by an itchy rash that develops into blisters that typically occurs in the second or third trimester, and/or immediately following pregnancy.
Most patients present with an intensely itchy hive-like rash during mid to late pregnancy (13 to 40 weeks gestation).
Initially there are itchy red bumps around the belly button
Within days to weeks, the rash spreads to other parts of the body including the trunk, back, buttock, and arms. The face, scalp, palms, soles and mucous membranes are usually not affected.
After 2-4 weeks, large, tense fluid-filled blisters form
Some patients may have no blisters but instead have plaques (large raised patches)
10% of newborns may be affected
Disease mild and self limiting
Increase risk of prematurity
Tendency for small gestational age
No increased risk in fetal morbidity or mortality
No evidence that use of systemic corticosteroids alters risk for premature delivery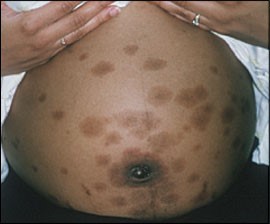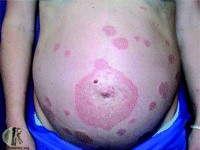 The most accepted way to treat PG is with the use of corticosteroids, prednisone; and/or topical steroids, i.e. clobetasol and betamethasone. Suppressing the immune system with corticosteroids helps by decreasing the number of antibodies attacking the skin.
Treating PG can be difficult and can take several months. Some cases of PG persist for many years.
In the post partum period, if necessary, the full range of immunosuppressive treatment may be administered for cases unresponsive to corticosteroid treatments.
Rituximumab and intravenous immunoglobulin may sometimes be considered when the symptoms are severe.
Research
Ahmed AR, Alraqum E,Nguyen T. Positive clinical outcome with IVIg as monotherapy in recurrent pemphigoid gestationis. International Immunopharmacology 26 (2015) 1–3.